YouTuber chilena de maquillaje cuenta su historia de abuso en el pololeo (07/11/2016)
En un día cualquiera, el canal Claudipia Chic está repleto de consejos de belleza y maquillaje. Cómo lograr un look para salir, ideas para maquillarse los ojos o consejos sobre vestuario. Su espacio en YouTube es uno de los que tiene más suscriptoras en Chile y está íntegramente dedicado a todos estos temas.
Sin embargo, el 16 de octubre fue diferente. claudia Bravo, 24 años, actualmente viviendo en Arica, decidió compartir su testimonio sobre una relación abusiva que la afectó cuando estaba saliendo del colegio.
En el contexto de la marcha y la campaña #NiUnaMenos, claudia contó que fue víctima de violencia sicológica y física por parte de su pololo de la época. En el video se la puede ver nerviosa y ella misma confiesa que está compartiendo información que ni siquiera su mamá sabe.
Conversamos con ella para conocer un poco más sobre su motivación para crear este video.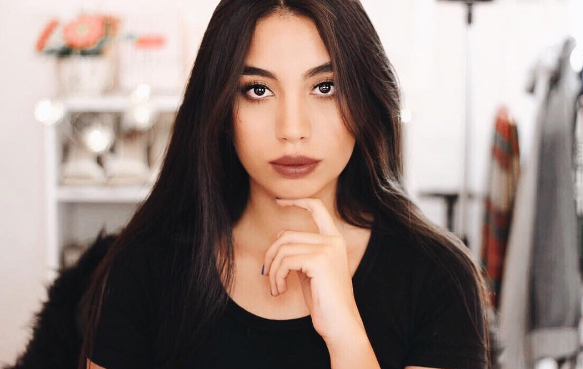 ¿Qué te gustaría que sucediera a partir de este video?
La  idea principal del video es contar mi experiencia con la violencia en el pololeo (en mujeres y hombres), dar a conocer que a cualquiera nos puede pasar y a la edad que sea (a mi me ocurrió a los 17-18 años), y con eso ser apoyo a chicas/os que quizás estén pasando o que hayan pasado por lo mismo, dar un mensaje alentador a quienes vean el video para que se den cuenta de que se puede vivir y salir adelante después de una ruptura de una relación tóxica. Siento que nadie te va a entender más que una persona que haya pasado por lo mismo, entonces ése es el fin, dar mi mensaje a esas chicas/os víctimas de la violencia de género a partir de mi propia experiencia para que se atrevan a decir BASTA.
¿Conoces historias de tus suscriptoras respecto de este tema?
Una en concreto no, pero yo una vez fui la suscriptora de alguien que subió en ese tiempo un video como el que acabo de subir y fue de mucha ayuda para mí. De hecho recuerdo que lloré con el video y me daba más fuerza para seguir adelante. Lo que me da mucha pena es leer los comentario de mi video y darme cuenta de que hay muuuuchas chicas pasando por algo así, muchas comentan sus experiencias; pero por otra parte está  lo lindo y es que se dan palabras de apoyo, me dicen que el video les sirvió para darse cuenta de algunas cosas, que mis palabras son de ayuda, y eso es una de las cosas que quería generar, una consciencia.
Finalmente, ¿crees que es importante que quienes son líderes de opinión, como tú en YouTube, puedan compartir estas experiencias para dar un mensaje positivo de que se puede salir de ellas?
Al comienzo pensaba que esto es algo muy personal, de hecho comento en el video que ni mi mamá sabía de esto y se enteró hoy de cómo fueron las cosas. Pero si uno tiene el "poder" (digámoslo así), de llegar a personas, creo que hacer este tipo de videos es aportar aunque sea un granito de arena a quienes estén atravesando algún problema. Que ellos nos vean hablando del problema, de cómo lo enfrentamos, cómo seguimos vivos, con metas, sueños y siendo felices, es una gran oportunidad de contagiarlos de ese optimismo y energía, para que atraviesen ese mal momento de la mejor manera, por que al fin y al cabo todo pasa, hay que ser fuertes, pero todo pasa. Algo así como "¡Si yo pude, por qué tú no!".
El video lleva actualmente más de 160 mil reproducciones y ha tenido una excelente recepción por parte de las suscriptoras del canal, quienes han expresado sus opiniones y agradecido la sinceridad y valentía de claudia. Muchas de ellas también han compartido su propia lucha en relaciones de maltrato.
Últimos artículos
Tiki Taka Run It is Tiki Taka time! Kick the ball forward and score a goal as soon as possible.
Kristen True Make Up Style actress Kristen by using the different clothing and make-up items, hairstyles and accessory to create a modern, trendy look.
Doctor Teeth Play as a dentist and use different tools to treat caries, bad breath and extract teeth.
4 In A Row .
Animals Puzzle Find pairs of matching cards in this cute animal puzzle! Select two cards to flip them and see if they match.
Don't Crash Do not crash! This is the only rule of this addictive and fun skill game. Tap anywhere to change lanes and beat as many rounds as possible.
Super Looms: Fishtail Get creative and weave one of the popular loom bands! Find the perfect color combination and decorate the bracelet with cute charms.
Mini Putt Holiday In this X-Mas sequel to the Mini Putt adventure 18 more levels with many tricky courses are waiting for you.
Bananamania .
Boss Level Shootout .
Connect me factory Move, turn and join the blocks until the stick together.
Colorpop .
Speed Billiards .
Vanessa True Make Up Vannesa needs your help with her styling. Create her look by chosing her outfit and hairstyle andt match the perfect make-up and accessory with it.
Euro Penalty 2016 Compete against Europe's soccer elite and win the trophy! Select your favorite team and show your skills as a striker and goalkeeper.
Kiba & Kumba: Tri Towers Solitaire Objective of the game is to clear all three peaks made of cards. Only cards that are lower or higher than the card at the bottom deck can be removed.
Cute Salon .
How To Feed Animals How to Feed Animals is our newest puzzle game. Play through 40 levels, combine the cute animals and feed them to pass each level.
Amanda True Make Up Be a trendsetter and pick the perfect styling for actress Amanda in this girl game of the True Make Up Series.
Finders Critters Help the sweet Critters to get from A to B! But your task is not easy. You have to connect at least two equal coloured blocks to clear a path.