Top Model Iskra Lawrence se desnuda en metro de Nueva York y remece con su mensaje (25/11/2016)
Ocupados, ensimismados en su rutina o aburridos de largos trayectos, un grupo de pasajeros del metro de Nueva York se vieron sorprendidos por la acción de una Top Model que busca despertar conciencia respecto a la imposición de ciertos cánones de belleza que realiza la sociedad a las mujeres.
Se trata de la modelo Iskra Lawrence, que se ha hecho conocida en el mundo por su lucha contra los estereotipos femeninos.
La maniquí británica esta vez llevó su protesta a un vagón del metro de Nueva York y en medio del ajetreo de un viaje comenzó a gritar: "Hola a todos. No me conocen ni yo a ustedes, pero quiero conectarme con ustedes. quiero hablar de la relación más importante que tenemos en nuestra vida, la que tenemos con nosotros mismos. quiero demostrar mi vulnerabilidad para que vean el viaje por el que he pasado con mi cuerpo y cómo me siento hoy sobre mí misma. Me voy a desvelar".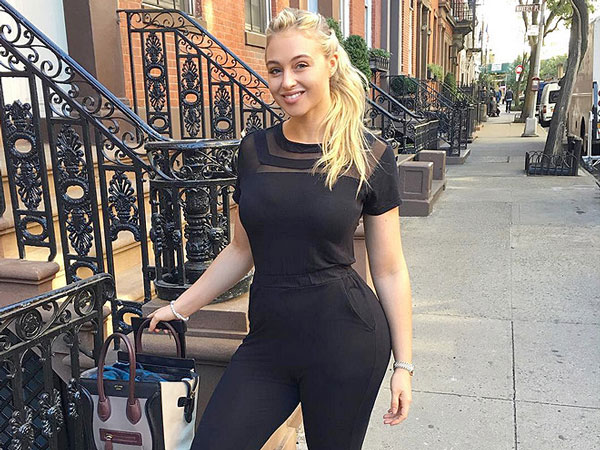 Fue en ese preciso momento en que dejó caer su vestido, quedando nada más que en ropa interior, con lo que logró la atención de los pasajeros, quienes sorprendidos, y por qué no impactados, la escucharon atentos.
Y tal como lo muestra el video que se ha transformado en viral con esta historia, ella partió su arenga contando lo que ha vivido: "Crecí odiando lo que veía en el espejo porque la sociedad me decía que no era suficientemente buena. Pensaba que estaba mal no tener los muslos separados, que estaba mal tener celulitis y no ser delgada", sentenció.
Iskra Lawrence ha sido reconocida por luchar contra los estereotipos que dominan el mundo del modelaje femenino, incluso se opone a ser llamada modelo "de talles grande" o "curve" y como si fuera poco, está en contra de que se utilice Photoshop en sus fotografías a pesar que tiene uno que otro indicio de  celulitis en sus muslos. Además, ha realizado una fuerte campaña para prevenir los trastornos alimenticios vinculados al deseo insano de muchas mujeres de permanecer delgadas por siempre.
Revisen el video con su mensaje Iskra Lawrence :
Últimos artículos
Beauty Cat Salon .
K.U.L.I. .
Euro Keeper 2016 .
Ice-Cream, Please! Combine flavors, toppings and fruits, create the perfect ice-cream cone and please your customer.
Kiba & Kumba Jigsaw Puzzle Go on a puzzle adventure with Kiba & Kumba! 40 beautiful jigsaw puzzle levels are waiting for you! Simply drag and drop the pieces on screen and finish the picture.
Tri Peaks Solitaire Classic Objective of this popular Solitaire game version is to clear the table of all 3 peaks made of cards.
Speed Maniac Unleash your inner speed freak in this cool drag racing game.
Zombies Eat My Stocking .
Koutack Collect all stars while piling up the tiles in this colorful puzzle game.
Burnin Rubber Choose your car, choose your weapon and head out to rule the streets. Steer by tapping left or right and burn some rubber.
Keno .
Fancy Constructor Your task in this colorful puzzle game is to fill out all white shapes with the blocks available.
Creamy Ice Build your own ice cream empire in this cool skill game! Serve customers by tapping the ingredients in the correct order and upgrade your business.
Tabby Island In this adorable match3 game your task is to combine as many cute little kittens as possible.
Orange Bubbles Shoot the bubbles and combine at least 3 of the same color to remove them from the field. Drop the oranges to complete a level.
Jennifer True Make Up Give actress Jennifer a make-over with this game of the True Make Up Series.
American Football Kicks .
Slacking Cafeteria .
French Apple Pie - Cooking with Emma Help Emma to prepare the traditional French Applepie in this new game of the series Cooking with Emma. Follow her instructions and read the whole recipe at the end.
Flying School In Flying School you need to help cute birds learn to fly. Drag and aim to make them fly from nest to nest.