Quiroprácticos advierten de riesgos para las mujeres de usar la ropa y accesorios de moda (23/03/2017)
Jeans ajustados, una maxi cartera, con muchas cosas en su interior, y zapatos bien altos. ¿El look perfecto? Si la pregunta es meramente estética, la respuesta puede ser que sí, pero si estamos hablando de conductas saludables, la verdad es que el NO es rotundo. Y eso avalado por la agrupación de quiroprácticos del Reino Unido.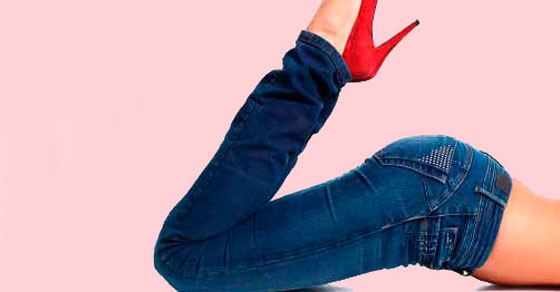 La entidad de profesionales realizó un estudio donde analizó el impacto de diversos atuendos y accesorios en la salud de más de 1.200 mujeres, especialmente en su postura y dolores de espalda. A partir de ello determinó que, aunque parezca extraño, aquellas que utilizaban con mayor frecuencia pantalones de mezclilla ajustados tenían mayor cantidad de dolores de espalda que aquellas que no.
Pero además de los pantalones, las mujeres utilizamos otros accesorios que son perjudiciales, como las carteras innecesariamente pesadas, que nos negamos a abandonar, a pesar que cargar con ellas sea también causa de muchos dolores de espalda.
Y si todo esto lo complementamos con zapatos altos, el perjuicio para la salud se incrementa.  Ocurre que los zapatos de tacón alto también fueron estudiados en la encuesta, debido a que la forma en la que te obligan a mantener el cuerpo, puede generar tensión en la columna vertebral.
El investigador a cargo del estudio,  Tim Hutchful, indicó que: "Aunque ciertamente no estamos diciendo que dejes de usar tu ropa favorita como la mayoría de las cosas en la vida, la moderación es mejor y hay maneras fáciles de reducir el impacto en tu postura y la salud en general. Por ejemplo, intenta limitar el número de veces que usas pantalones jeans ajustados o tacones altos cada semana para que le des descanso a tu cuerpo, o intenta usar una mochila cuando tienes mucho que llevar".
Últimos artículos
Jewels Mania .
1 Sound 1 Word In this fun quiz game it's all about your ears! Look at the pixelated image and carefully listen to the sound.
Lana True Make Up .
Knightower Train your reflexes by helping the little knight to climb up an endless tower.
Kelly True Make Up Singer Kelly wants you as her personal stylist.
Sweet Candies .
Burger Maker .
Paper Plane Flight Paper Plane Flight is an addicting arcade game. Take control of a paper plane, collect coins, avoid obstacles and prove your skills. Beat the high score and become a high-flyer.
Fairy Cards In this magical brain game, your task is to find identical cards.
Potato Salad - Cooking with Emma In the cooking game series Cooking with Emma this time you can learn how to prepare a delicious vegan potato salad with sausages.
Reversi Select the right strategy in this classic Reversi board game version and try to end up with the most disks of your color to win the game.
Jewel Bubbles 3 Swap adjacent bubbles to make rows of at least 3 same-colored bubbles and remove them from the field. Bigger combinations will give you special bubbles and bonus points.
Sea Bubble Shooter Your task in this cute Bubble Shooter with a twist is to clear the star in the center of the rotating field.
Blobs Plops .
Color Pin Wait for the perfect moment and shoot pins into the rotating ball.
Lectro Lectro is a minimalist game which demands your whole attention and skills.
Fast Circles .
Snowball Champions The Snowball War is on! Become the ultimate Snowball Champion in our winterly snowball war game. Discover over 50 snowy levels and collect all trophies and coins.
Sushi Backgammon In this tasty backgammon version your task is to move your pieces across the board onto the plate before your opponent.
Blue Box Blue Box is a unique and minimalist logic game in which your goal is to transport the blue box from the green start to the red box.