¿Qué hacer para que tu maquillaje dure más? 10 consejos infalibles (26/01/2017)
El verano, época gloriosa de sandías, humitas y piscinas… pero también de maquillajes corridos y sudados que no resisten la temperatura.
Aquí te damos 10 consejos para lograr que dure mucho más durante el día.
1. Limpia muy bien tu piel. Es importante que tu piel no tenga residuos de maquillaje del día anterior o impurezas. De ese modo todo lo que apliques sobre ella tendrá una adherencia mayor.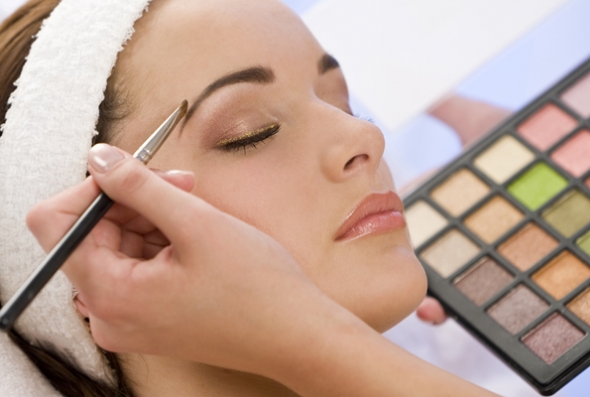 2. Usa primers. Éste es el consejo que hará la mayor diferencia, especialmente en tu maquillaje de ojos. Usar un primer (o pre-base) en los párpados hará que las sombras no se corran y no se acumulen en los pliegues. Lo mismo para el rostro, un primer creará una superficie que permitirá que la base se adhiera mejor a tu piel y se mantenga por más tiempo.
3. Espera unos minutos entre capa y capa de maquillaje. Dale tiempo a cada producto para ser absorbido, de ese modo el que pongas encima no arrastrará lo que hiciste previamente.
4. Aplica poca cantidad de producto. Especialmente de los que son cremosos: primer, base, corrector… Crea con ellos capas delgadas para que su absorción sea más fácil y así se asienten mejor en la piel.
5. Prefiere brochas y esponjas. Utilizar brochas y esponjas de maquillaje te ayudará a crear una base mucho más pareja y prolija en toda la piel.
6. Encrespa tus pestañas. El calor y el sudor puede contribuir a que las pestañas se vean más tiesas. Si usas un encrespador (o la cuchara) para darles forma, se mantendrán así por más tiempo.
7. Utiliza productos a prueba de agua. Delineadores y máscaras de pestaña funcionan mucho mejor cuando son a prueba de agua y te aseguras de que no se correrán.
8. Finaliza tu maquillaje con un fijador. Los fijadores contienen sustancias que crean una capa final sobre el rostro permitiendo que todo quede intacto.
9. Retoca el maquillaje con polvo translúcido. Durante el día puedes volver a aplicar polvo translúcido para eliminar el brillo y mantener fresco el maquillaje. mucho mejor si es un polvo con protección solar.
10. Utiliza papeles de arroz para controlar el brillo. Si tu piel es excesivamente grasa, este tipo de papeles te permitirán absorber el exceso y mantener tu piel matificada.
LOS ELEGIDOS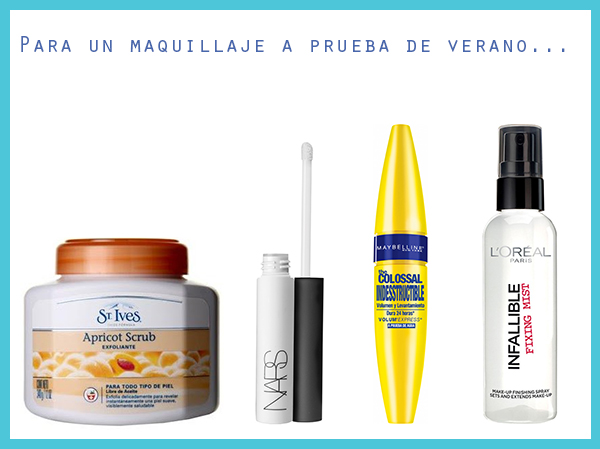 St Ives Apricot scrub | $4.390. Exfoliante para el rostro. Utilízalo una o dos veces a la semana para mantener tu piel limpia y suave.
Nars Pro-prime Smudge proof | $21.990. Primer de ojos. Con este producto tu sombra durará todo el día y no se correrá. Lo aplicas en el párpado y le das unos minutos para que se seque antes de poner sombras. Es caro, pero te puede durar entre uno y dos años.
Maybelline Colossal Indestructible | $6.990. máscara de pestañas a prueba de agua. Es tan a prueba de agua que cuesta mucho removerla, asegúrate de contar con un desmaquillante bifásico para no dañar tus pestañas.
L'Oréal Infallible | $8.990. Fijador de maquillaje. Es un producto en spray. Aplícalo en todo el rostro al terminar tu maquillaje y déjalo secar.
Últimos artículos
Fruit Break It's Fruit Break time! Prove your skills in 60 seconds: cut as many fruits as possible and avoid all bombs.
Soccer Bubbles .
Superhero Quiz Test your superhero-knowledge on comics, films and series. More than 100 characters provide long fun for young and old fans of superheroes and their supervillains.
Emily's Home Sweet Home .
Red Head Move the red ball as far as you can by helping it jump from platform to platform without falling off them or touching the spikes.
Animal Quiz In this free quiz you can test your knowledge about animals in more than 300 levels.
Mahjong Mania Find matching pairs in this fun version of the board game classic.
Key & Shield In the platform adventure Key&Shield you take on the role of Buddy, a yellow blob who tries to rescue his friends.
Demi True Make Up Be a make-up artist and create a new look for Demi with this game of the True Make Up Series.
Fishing Frenzy .
Clockwork Beetles .
Kids Color Book 2 .
Farm Invaders .
Pizza Margherita - Cooking with Emma Help Emma from the cooking game series Cooking with Emma to prepare the vegan pizza.
Ultimate Sudoku .
Klondike Solitaire Play this addicting classic version of the popular casual game where you have to sort all cards on the field.
Goalkeeper Challenge .
Jigsaw Puzzle Classic .
Flow Mania Connect pairs of dots to create a flow between them.
Orange Ranch Orange Ranch is the great sequel of the classic Bubble Shooter Orange Bubbles.