Mujer se tiñó el pelo con Nutella y leche condensada: el resultado se ha vuelto viral (22/12/2016)
Huda Kattan es una joven residente en Dubai cuya cuenta de Instagram Huda Beauty acumula la exorbitante suma de 16 millones de seguidores.
La gurú de belleza comparte sorprendentes tips de peinado, manicure y maquillaje tanto con fotos como en video propios y de otros expertos. Su reciente posteo sobre un cambio de look realizado en una peluquería de Líbano está teniendo gran repercusión.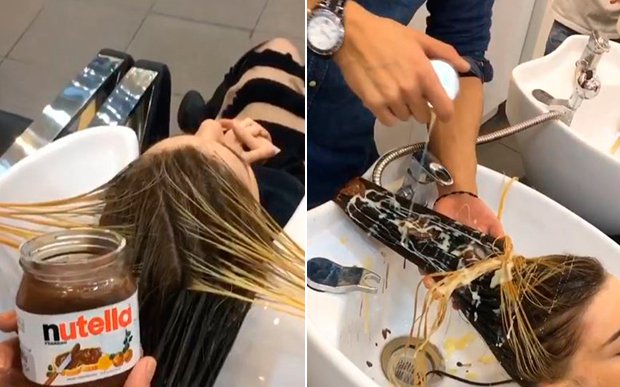 En el video subido a Instagram el 15 de diciembre, se puede ver a una mujer de melena rubia que se somete a un cambio de tono en la peluquería Aabed & Samer. El detalle es que le aplican Nutella y leche condensada.
¿Te imaginas que su pelo quedó empastado? No. Pese a todo pronóstico, el cabello de la valiente mujer no se arruinó y obtuvo un tono rubio ceniza. Este es el video que ya ha sido visto por más de un millón de personas: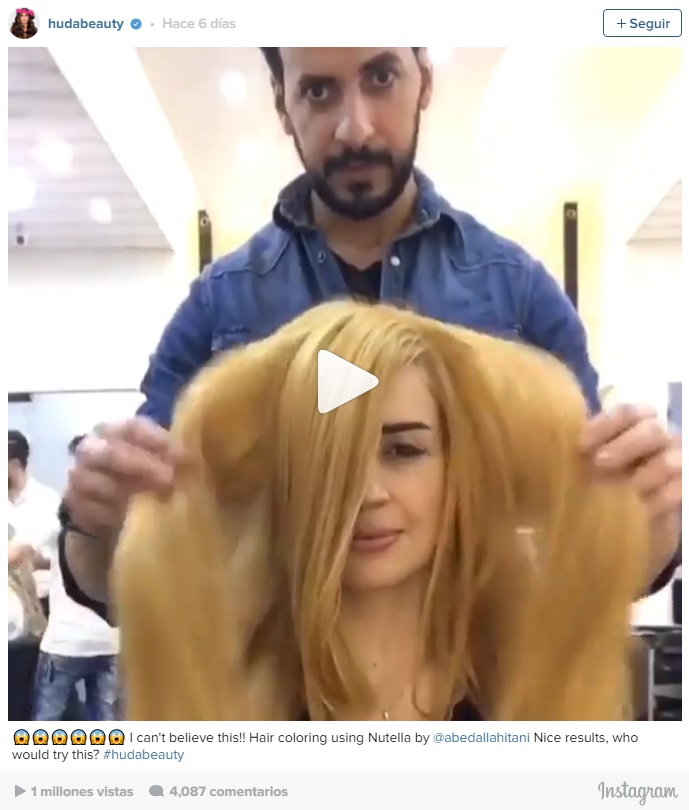 El video muestra un paso previo a la aplicación de la crema de avellanas, posiblemente para oscurecer el cabello de la mujer. Lo que sigue, es similar al procedimiento que se realiza con tintes tradicionales: se coloca Nutella y leche condensada, se deja actuar y luego se enjuaga.
"Si quieres un color caramelo suave te puede durar dos o tres semanas, pero si quieres algo más oscuro, tienes que dejar la Nutella durante más tiempo para que dure más", explicó el estilista al sitio británico Metro. Además agregó que, más allá del color, "Nutella es bueno para el cabello porque lo deja más brilloso".
Últimos artículos
Kids Puzzle Adventure Go with us on a puzzle journey! Visit a farm, dive into the ocean or explore the prehistoric age and discover which animals and objects are hidden in the pictures.
My Dolphin Show 6 .
Extreme Kitten The adorable kitten wants to jump far: show your skills and help her by finding the right timing for her start and extend it by tapping the items on the playground.
SWOOOP .
Casual Dress Fashion .
Mixed World Visit Mixed World and help tiny blue monsters to defend themselves against red villains. Push all red monsters off the platform and master 30 challenging levels.
4x1 Picture Quiz .
Emily's Hopes and Fears .
My Little Dragon In My Little Dragon you will adopt a tiny and cute creature. Play with it, feed it, clean it and watch it grow up.
Penalty 2014 .
Fishy Rush Guide the little fish through the ocean while avoiding the dangerous enemies, such es the sharl. Collect coins and power-ups that will help you improve your high score.
Indi Cannon .
Ultimate Boxing In Ultimate Boxing awaits you a hard fight.
Chocolate Biscuits In the cooking game series Cooking with Emma this time you have to help the lovely cool to prepare the delicious Chocolate Biscuits.
Peanut Butter Cookies Help lovely Emma in the cooking game series Cooking with Emma to prepare the delicious Peanut Butter Cookies, and read the whole recipe at the end.
123 Puzzle Prove your number skills and complete all levels of our 123 Puzzle.
Let me grow Make the flowers bloom by leading the water to their direction.
Jewel Explode .
Wordguess 2 Easy Improve your lexical and logical knowledge by guessing the words composed by the two pictures.
Drop Me Colorful puzzle, sweet sound, lovable characters and challenges.