Modelo de 80 años graba un inspirador video que muestra que nunca es tarde (22/11/2016)
Ante su éxito asombroso el último año, luego que en 2015 debutara en la semana de la moda en China, el actor y modelo, Deshun Wan,  decidió grabar un video en el cual  describe momentos de su vida y su llegada a las pasarelas.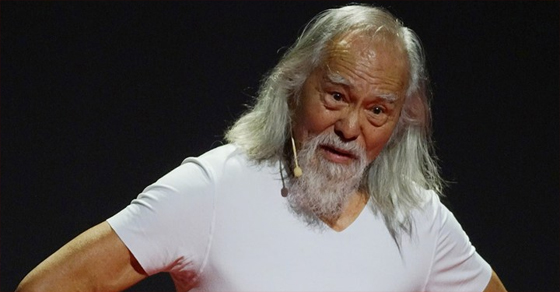 "Mi nombre es Deshun Wan. Muchos me conocieron a partir de una pasarela. Algunos me dicen el abuelo más guapo o que soy una sensación de Internet. ¿pero saben qué? para estar listo para este día, me he estado preparando por 60 años", asegura el hombre octogenario en el video que subió a YouTube.
Tiene 80 años, pero se hizo famoso hace sólo uno, luciendo el torso desnudo en las pasarelas, dando cuenta de un físico escultural y moviendo  su largo pelo canoso y extensa barba blanca. Desde ese momento, llamó la atención de todo el mundo y su popularidad comenzó a crecer rápidamente.
Wang  ha tenido una carrera marcada por comienzos tardíos, asegura en el video donde cuenta su vida. comenzó como actor de teatro a los 24, pero 20 años después empezó a aprender inglés, a los 49 armó su propia compañía de pantomima, para luego emigrar a Beijig y comenzar desde cero.
Precisamente en esa época, a los 50 años empezó a acudir al gimnasio y a los 57 volvió a los escenarios, inventando una nueva manera de interpretar el arte, la que denominó: "Esculturas vivas".
Tras 20 años asistiendo al gimnasio de manera disciplinada, a los 70 se comenzó a involucrar aún más, debutando en la pasarela a los 79 años, justo el 2015, por lo que actualmente a los 80 asegura que aún le queda mucho por dar en la pasarela, sostiene el que se ha dado en llamar el abuelo más sexy del mundo.
Ve cómo cuenta el su vida en este video:
Últimos artículos
Keno .
Fancy Constructor Your task in this colorful puzzle game is to fill out all white shapes with the blocks available.
Creamy Ice Build your own ice cream empire in this cool skill game! Serve customers by tapping the ingredients in the correct order and upgrade your business.
Tabby Island In this adorable match3 game your task is to combine as many cute little kittens as possible.
Orange Bubbles Shoot the bubbles and combine at least 3 of the same color to remove them from the field. Drop the oranges to complete a level.
Jennifer True Make Up Give actress Jennifer a make-over with this game of the True Make Up Series.
American Football Kicks .
Slacking Cafeteria .
French Apple Pie - Cooking with Emma Help Emma to prepare the traditional French Applepie in this new game of the series Cooking with Emma. Follow her instructions and read the whole recipe at the end.
Flying School In Flying School you need to help cute birds learn to fly. Drag and aim to make them fly from nest to nest.
Tiki Taka Run It is Tiki Taka time! Kick the ball forward and score a goal as soon as possible.
Kristen True Make Up Style actress Kristen by using the different clothing and make-up items, hairstyles and accessory to create a modern, trendy look.
Doctor Teeth Play as a dentist and use different tools to treat caries, bad breath and extract teeth.
4 In A Row .
Animals Puzzle Find pairs of matching cards in this cute animal puzzle! Select two cards to flip them and see if they match.
Don't Crash Do not crash! This is the only rule of this addictive and fun skill game. Tap anywhere to change lanes and beat as many rounds as possible.
Super Looms: Fishtail Get creative and weave one of the popular loom bands! Find the perfect color combination and decorate the bracelet with cute charms.
Mini Putt Holiday In this X-Mas sequel to the Mini Putt adventure 18 more levels with many tricky courses are waiting for you.
Bananamania .
Boss Level Shootout .