Maquilladora de Kramer dictará seminario de efectos especiales (12/12/2016)
Actualmente, Carla Gasic es el referente en el mundo del maquillaje de efectos especiales en Chile. Su trayectoria es indiscutible y su trabajo con Kramer y en "Mi nombre es" la ha posicionado como un modelo a seguir para maquilladores que desean especializarse en esta área.
En conjunto con The Collective, Carla dictará un seminario de 5 días destinado a abordar diferentes aspectos del maquillaje de efectos especiales. En estas clases, la maquilladora trabajará temas como heridas, pelo y creación de personajes, entre muchos otros.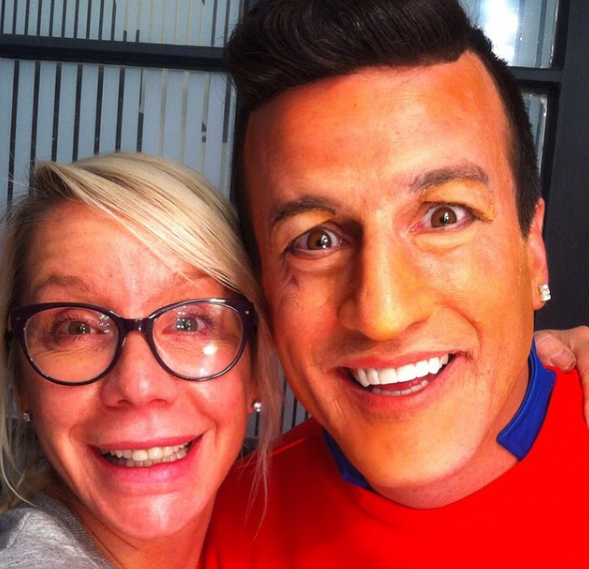 Conversamos con Carla para conocer más sobre esta instancia.
¿Es un seminario dirigido a maquilladores o a cualquiera con un interés en el área?
Está dirigido a maquilladores o cualquiera que tenga interés en  tomarlo. El maquillaje de efectos especiales es totalmente diferente al maquillaje de moda y son otros materiales y otras técnicas; lo que pasa, es que si no estás en el mercado ya trabajando, el costo de un curso como éste es alto y no se justifica demasiado si no tienes donde aplicarlo a un corto o mediano plazo. Son técnicas que se aprenden rápido, pero los materiales tienen un alto costo y no siempre los encuentras en chile. Creo que de alguna manera eso ha frenado el mercado… no tener todos los materiales en chile hace que sea más difícil entregar un trabajo de calidad y poca gente puede hacerlo. En chile sólo tenemos una marca de maquillaje de efectos especiales.
¿En qué contextos se pueden aplicar las técnicas que vas a enseñar en el seminario?
En varios… Puedes mezclar técnicas de FX con maquillaje de moda y proponer looks más atractivos. para los maquilladores que trabajan en audiovisual, cine o series, este tipo de técnicas son requerimientos básicos del cliente. Desde saber con qué pegamentos puedes trabajar en la piel o saber cómo montar o construir un bigote o cuál es la mejor sangre para HD… para aquellos maquilladores que han desarrollado su carrera como Youtubers puede ser una gran herramienta; incluso para los artistas plásticos puede ser atractivo.
¿Sientes que ha crecido el mercado que hay para el maquillaje de FX?
El crecimiento de la industria en chile ha sido exponencial y cada vez hay más trabajos que requieren de maquilladores más completos sobre todo en cine y televisión. Además, las fronteras entre el maquillaje de beauty y los efectos especiales casi ya no existen. Mientras más técnicas y conocimientos tengas, más creativas serán tus propuestas. También hacemos muchos servicios de producción en chile donde vienen directores y equipos de todo el mundo a filmar a nuestro país y somos pocos los que estamos calificados para entregar un servicio de excelencia.
¿Qué consejos puedes dar para quienes están ingresando en el mundo del maquillaje en general y de FX en este chile ad portas del 2017?
Decirles que no basta con el talento, es muy importante la personalidad del maquillador. Habrán varios años de ganar poco dinero, pero mucha experiencia. El maquillaje no es algo que estudias sólo una vez, sino que como toda profesión debes estar constantemente renovándote y actualizando técnicas. Es un trabajo inestable y quizás a veces difícil porque trabajas con mucha gente y las relaciones son claves.
Mi mejor consejo: ¡trabajar con pasión! Hacer las cosas con amor y disfrutar. Vencer el miedo a la inestabilidad y cultivarse. Ir al cine, ver arte, salir a la calle y observar a la gente. Si tenemos material creativo en nuestra cabeza, podemos entregar lo mejor de nosotros.
Coordenadas
El seminario incluye todos los materiales que contemplan el uso de prótesis diseñadas especialmente para la ocasión. Se realizará a fines de enero y el precio es $900.000. más información en [email protected]
Últimos artículos
Penalty Shooters 2 Select your favorite soccer team and battle you way through the group stage and knockout phase. Play as kicker and goalkeeper and wait for the perfect moment to make your move.
Aliens Attack Aliens are invading the earth! Protect the planet, shoot as many intergalactic enemies as possible and beware of the mighty bosses.
0h h1 0h h1 is an addicting logic game for young and old.
Easter Lily .
Snowball Christmas World This is the winterly sequel of Snowball World. Your aim is to help the kitten Snowball through 20 challenging levels.
Dots Mania Dots Mania is an addictive Match3 game which will entertain you for hours! Connect dots of the same color and earn as many points as possible.
Wanderlust All hands on deck! Wanderlust is an exciting high sea adventure. As a fearless pirate captain you will fight on high seas, collect treasures and undertake daring missions.
Checkers Classic .
Mahjong Classic Enjoy the ancient board game classic Mahjong! Match pairs of tiles and eliminate all pieces from the board.
Pizza Ninja 3 .
Ojello Become the Ojello master mind! Slice the jelly in pieces and free all golden orbs. Prove your skills in 120 challenging levels.
Puzzletag Four fun brain challenges are waiting for you in PuzzleTag! Find pairs of matching cards, memorize sequences and positions, or swap tiles to reveal a picture.
Gold Rush Tap on groups of 3 or more blocks of the same color to remove them from the field and try to get as many points as possible in this addictive Match3 game.
Woblox .
Shards .
Home Run Champion Score as many home runs as possible and strike out the enemy players to become the champion in 24 thrilling matches.
Treasure Link .
Hextris .
Timber Guy Show off your woodcutting skills by cutting as much wood as you can. You have to be quick and avoid approaching branches! Play with cool characters and gain medals.
Pet Roulette .