Karen Paola en el ojo del huracán por filtración de fotos desnuda: Su historia de amor con Juan Pedro (07/03/2017)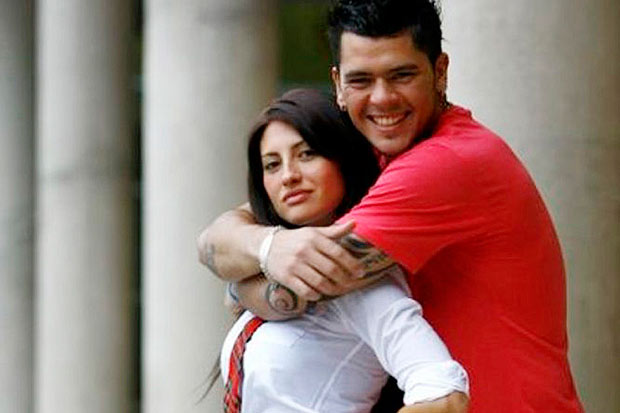 La ex chica Mekano y  ex panelista de Mucho Gusto vive su peor momento debido a la filtración de imágenes y videos íntimos después del robo de su celular. Junto a su marido, Juan Pedro Verdier, también ex integrante del espacio juvenil, llevan 12 años de relación, de la cual nació Guillermo.
"¡Feliz aniversario! aunque estemos a miles de kilómetros de distancia, mi amor por ti es cada vez más fuerte y verdadero. Le pido a Dios que nunca se acabe esa magia que hay entre nosotros y que siga iluminando nuestra vida Junto a nuestro hijo y los que se vengan en el futuro. Gracias amor por tu paciencia, tu amor incondicional y el respeto que tienes por nosotros con Guillermo. Este tipo de cosas ya no son habituales en las familias actuales y es por ese motivo que valoro tanto que seas así de puro y maravilloso con nosotros", escribió en su cuenta de  Instagram Karen Bejarano, en el mes de enero cuando celebraron, separados por motivos laborales, su aniversario.
La pareja se conoció cuando ambos formaban parte del programa Mekano, y si bien sus comienzos fueron tormentosos, con idas y venidas bien documentadas en el show, finalmente encontraron la estabilidad tras el nacimiento de su hijo. En 2014 se casaron en una sencilla ceremonia civil. Actualmente son una de las parejas más estables de la farándula chilena.
La pareja vive un complicado momento tanto laboral como personal: Bejarano fue desvinculada del panel de Mucho Gusto donde trabajaba hace varios años y fotografías íntimas de la pareja han sido publicadas en redes sociales. Ha sido Juan Pedro, el único que hasta el momento ha dado declaraciones: "Es un dolor que no puedo expresar en palabras…les pido que se pongan en nuestro lugar y cuando esto explote, contribuyan a denunciar cada ataque. Gracias".
Últimos artículos
Reversi Select the right strategy in this classic Reversi board game version and try to end up with the most disks of your color to win the game.
Jewel Bubbles 3 Swap adjacent bubbles to make rows of at least 3 same-colored bubbles and remove them from the field. Bigger combinations will give you special bubbles and bonus points.
Sea Bubble Shooter Your task in this cute Bubble Shooter with a twist is to clear the star in the center of the rotating field.
Blobs Plops .
Color Pin Wait for the perfect moment and shoot pins into the rotating ball.
Lectro Lectro is a minimalist game which demands your whole attention and skills.
Fast Circles .
Snowball Champions The Snowball War is on! Become the ultimate Snowball Champion in our winterly snowball war game. Discover over 50 snowy levels and collect all trophies and coins.
Sushi Backgammon In this tasty backgammon version your task is to move your pieces across the board onto the plate before your opponent.
Blue Box Blue Box is a unique and minimalist logic game in which your goal is to transport the blue box from the green start to the red box.
Block Buster Try to survive as long as you can in this fun Match3 game.
Get 10 .
Kids Tangram Objective in this classic Tangram puzzle is to form a specific shape. Put the flat blocks together and create the shape given by the silhouette.
Amazing Me .
Soccertastic .
Blowman Fight against evil beans in this fun skill game! In Blowman, your task as a super hero is to jump from house to house by the power of your breathing abilities.
Slacking Library .
Color Circles Make sure that both ball and obstacle have the same color to guide the ball through the patterns.
Anime Manga Quiz .
Taptastic Monsters .