Jennifer Aniston vivió gran bochorno en el estreno de su última película: Fotos la delatan (09/12/2016)
Cuando todo hace pensar que las estrellas de Hollywood no pueden fallar a la hora de aparecer en algún evento público, Jennifer Aniston protagoniza un gran descuido.
Efectivamente, la actriz asistió a la presentación de "Office Christmas Party" en Nueva York con un largo abrigo negro. Hasta ahí, todo bien. Sin embargo, dejó ver las etiquetas de compra colgando.
Aniston, de 47 años, llegó a la premiere luciendo un recatado mono negro y sobre sus hombros llevaba una larga chaqueta del mismo color.
Los paparazzi, siempre atentos, registraron que algo blanco sobresalía del atuendo y lo fotografiaron. La sorpresa fue ver las etiquetas, donde incluso se aprecia que es talla 36 y que es parte de la colección otoño/invierno de la exclusiva marca francesa Céline.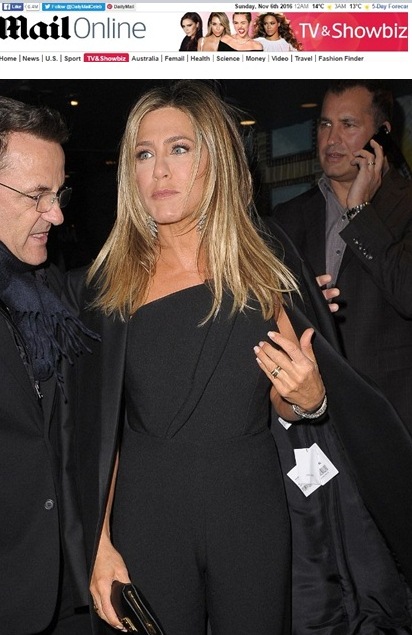 Últimos artículos
Checkers Classic .
Mahjong Classic Enjoy the ancient board game classic Mahjong! Match pairs of tiles and eliminate all pieces from the board.
Pizza Ninja 3 .
Ojello Become the Ojello master mind! Slice the jelly in pieces and free all golden orbs. Prove your skills in 120 challenging levels.
Puzzletag Four fun brain challenges are waiting for you in PuzzleTag! Find pairs of matching cards, memorize sequences and positions, or swap tiles to reveal a picture.
Gold Rush Tap on groups of 3 or more blocks of the same color to remove them from the field and try to get as many points as possible in this addictive Match3 game.
Woblox .
Shards .
Home Run Champion Score as many home runs as possible and strike out the enemy players to become the champion in 24 thrilling matches.
Treasure Link .
Hextris .
Timber Guy Show off your woodcutting skills by cutting as much wood as you can. You have to be quick and avoid approaching branches! Play with cool characters and gain medals.
Pet Roulette .
Chess Classic Exercise your brain and immerse yourself in one of the world's most popular board games! Play Chess Classic against the computer or your friends on the same device.
Roulette Royale .
Stray Knight Your task in this cute puzzle game is to guide the knight safely to the castle.
Prism .
Don't Cross the Line Master this riddle by uncrossing the lines and solving the interwoven pattern.
Flag Quiz .
What Famous Cat Are You Just answer the questions by chosing the image that best describes you and you will see, which famous cat resembles you the most.