Hijo de Sofía Vergara debuta como modelo a los 24 años (23/12/2016)
Es casi común ver que los famosos tienen hijos que buscan seguirles los pasos. En este caso, Sofía Vergara ve con orgullo cómo su hijo Manolo, fruto de su primer matrimonio cuando era adolescente, debutó como modelo.
El joven de 24 años participa en un reportaje fotográfico para la revista Paper en el número dedicado al director español Pedro Almodóvar.
En una de las imágenes, el hijo de la actriz colombiana posa como todo un profesional junto a la modelo Stevie DeFelice, mientras bebe un bloody Mary, luciendo un elegante traje negro, corbata del mismo color y camisa blanca.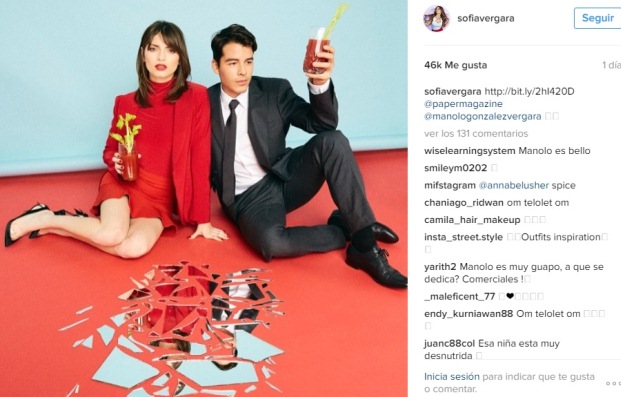 Últimos artículos
Domino Shades .
Hop Don't Stop Hop don't stop is an addicting skill game full of diamonds, power ups, obstacles, abysses and a cute little bunny.
Kids Puzzle Adventure Go with us on a puzzle journey! Visit a farm, dive into the ocean or explore the prehistoric age and discover which animals and objects are hidden in the pictures.
My Dolphin Show 6 .
Extreme Kitten The adorable kitten wants to jump far: show your skills and help her by finding the right timing for her start and extend it by tapping the items on the playground.
SWOOOP .
Casual Dress Fashion .
Mixed World Visit Mixed World and help tiny blue monsters to defend themselves against red villains. Push all red monsters off the platform and master 30 challenging levels.
4x1 Picture Quiz .
Emily's Hopes and Fears .
My Little Dragon In My Little Dragon you will adopt a tiny and cute creature. Play with it, feed it, clean it and watch it grow up.
Penalty 2014 .
Fishy Rush Guide the little fish through the ocean while avoiding the dangerous enemies, such es the sharl. Collect coins and power-ups that will help you improve your high score.
Indi Cannon .
Ultimate Boxing In Ultimate Boxing awaits you a hard fight.
Chocolate Biscuits In the cooking game series Cooking with Emma this time you have to help the lovely cool to prepare the delicious Chocolate Biscuits.
Peanut Butter Cookies Help lovely Emma in the cooking game series Cooking with Emma to prepare the delicious Peanut Butter Cookies, and read the whole recipe at the end.
123 Puzzle Prove your number skills and complete all levels of our 123 Puzzle.
Let me grow Make the flowers bloom by leading the water to their direction.
Jewel Explode .