Estilosa pareja japonesa lleva la elegancia y coordinación al siguiente nivel: Sus mejores fotos (10/03/2017)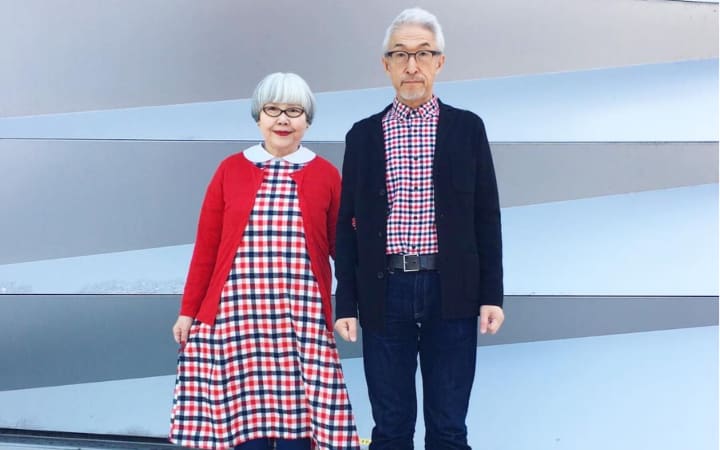 Un matrimonio japonés es la nueva sensación de internet. En en su poco tiempo de vida en las redes sociales, han acumulado miles de seguidores debido a su particular forma de vestir: totalmente coordinados. La pareja, que lleva casada 37 años, no solo se preocupa de que sus "outfits" luzcan complementarios sino que ademas se ven totalmente impecables y elegantes.
Pocos detalles se saben sobre la pareja, la cual todavía no ha hablado con los medios de comunicación. Su cuenta de Instagram @bonpon511 es una combinación de los nombres de ambos, y el número corresponde a su fecha de matrimonio. Tienen casi 300 mil seguidores.
Aquí algunos de sus mejores looks:
Esta es su cuenta de Instagram
Últimos artículos
Fairy Cards In this magical brain game, your task is to find identical cards.
Potato Salad - Cooking with Emma In the cooking game series Cooking with Emma this time you can learn how to prepare a delicious vegan potato salad with sausages.
Reversi Select the right strategy in this classic Reversi board game version and try to end up with the most disks of your color to win the game.
Jewel Bubbles 3 Swap adjacent bubbles to make rows of at least 3 same-colored bubbles and remove them from the field. Bigger combinations will give you special bubbles and bonus points.
Sea Bubble Shooter Your task in this cute Bubble Shooter with a twist is to clear the star in the center of the rotating field.
Blobs Plops .
Color Pin Wait for the perfect moment and shoot pins into the rotating ball.
Lectro Lectro is a minimalist game which demands your whole attention and skills.
Fast Circles .
Snowball Champions The Snowball War is on! Become the ultimate Snowball Champion in our winterly snowball war game. Discover over 50 snowy levels and collect all trophies and coins.
Sushi Backgammon In this tasty backgammon version your task is to move your pieces across the board onto the plate before your opponent.
Blue Box Blue Box is a unique and minimalist logic game in which your goal is to transport the blue box from the green start to the red box.
Block Buster Try to survive as long as you can in this fun Match3 game.
Get 10 .
Kids Tangram Objective in this classic Tangram puzzle is to form a specific shape. Put the flat blocks together and create the shape given by the silhouette.
Amazing Me .
Soccertastic .
Blowman Fight against evil beans in this fun skill game! In Blowman, your task as a super hero is to jump from house to house by the power of your breathing abilities.
Slacking Library .
Color Circles Make sure that both ball and obstacle have the same color to guide the ball through the patterns.