El dramático caso de Rumeysa Gelgi, la adolescente más alta del mundo (12/12/2016)
Rumeysa gelgi es una joven turca que llama la atención por su altura, pero no de la forma habitual. El caso de la muchacha ha recorrido el mundo luego de ser difundido por el programa "Body Bizarre" de TLC.
Pero antes de esto, en 2014, su altura le había hecho ganar un lugar en el Libro Guinness como la adolescente más alta del mundo. Hoy, a sus 19 años, mide 2,13 m.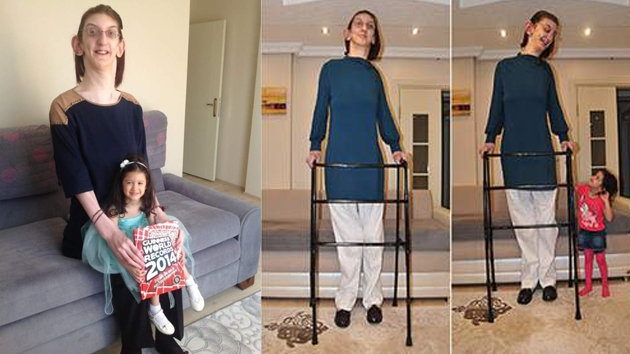 Pero lejos de ser una característica que le permitiría abrirse paso en disciplinas que requieren muchachas altas, como el básquet o el modelaje, gelgi sufre muchas complicaciones, ya que su estatura es consecuencia del síndrome de Weaver.
El sitio de medicina Orpha.net da cuenta de lo poco frecuente que es este síndrome: solo se han registrado 50 casos en todo el mundo.
Algunas de las dificultades que tiene la adolescente turca debido a este problema son el crecimiento muy veloz y la falta de movilidad en brazos y piernas, lo que genera complicaciones para caminar, por ejemplo. gelgi también sufre de escoliosis, una patología que hace que la columna se desvíe.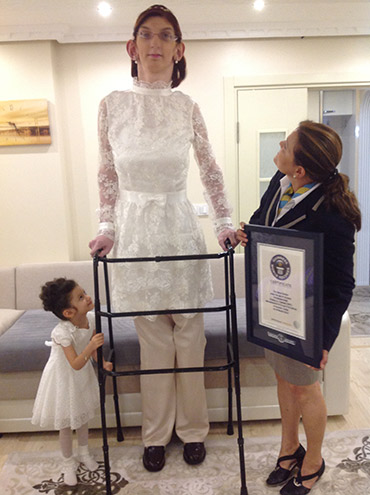 Rumeysa gelgi nació seis semanas antes de la fecha prevista y esto se debió a que los médicos notaron que la beba tenía un tamaño mayor al considerado normal. "Ella era más alta de lo normal. Tenía una voz profunda, áspera. Sus manos y pies eran grandes. Lucía distinta a los demás, muy diferente a los demás bebés", contó la madre de la adolescente a Daily Mail.
Sin embargo, y con todos los problemas que implica llevar una vida normal padeciendo este síndrome, Rumeysa gelgi ha logrado salir adelante: "Siendo niña, me hacía preguntas sobre mi apariencia, pero nunca me sentí infeliz. Logré sobreponerme con la ayuda de mis padres. Ellos me contaron que mi síndrome era muy raro. Es por ellos que me siento la persona más importante del mundo".
Su vida no es sencilla, pero ha sabido verle el lado positivo: "Ser alguien que tiene un récord mundial es algo increíble. Sé que solo la gente especial lo logra y yo soy una de esas personas".
Últimos artículos
Penalty Shooters 2 Select your favorite soccer team and battle you way through the group stage and knockout phase. Play as kicker and goalkeeper and wait for the perfect moment to make your move.
Aliens Attack Aliens are invading the earth! Protect the planet, shoot as many intergalactic enemies as possible and beware of the mighty bosses.
0h h1 0h h1 is an addicting logic game for young and old.
Easter Lily .
Snowball Christmas World This is the winterly sequel of Snowball World. Your aim is to help the kitten Snowball through 20 challenging levels.
Dots Mania Dots Mania is an addictive Match3 game which will entertain you for hours! Connect dots of the same color and earn as many points as possible.
Wanderlust All hands on deck! Wanderlust is an exciting high sea adventure. As a fearless pirate captain you will fight on high seas, collect treasures and undertake daring missions.
Checkers Classic .
Mahjong Classic Enjoy the ancient board game classic Mahjong! Match pairs of tiles and eliminate all pieces from the board.
Pizza Ninja 3 .
Ojello Become the Ojello master mind! Slice the jelly in pieces and free all golden orbs. Prove your skills in 120 challenging levels.
Puzzletag Four fun brain challenges are waiting for you in PuzzleTag! Find pairs of matching cards, memorize sequences and positions, or swap tiles to reveal a picture.
Gold Rush Tap on groups of 3 or more blocks of the same color to remove them from the field and try to get as many points as possible in this addictive Match3 game.
Woblox .
Shards .
Home Run Champion Score as many home runs as possible and strike out the enemy players to become the champion in 24 thrilling matches.
Treasure Link .
Hextris .
Timber Guy Show off your woodcutting skills by cutting as much wood as you can. You have to be quick and avoid approaching branches! Play with cool characters and gain medals.
Pet Roulette .