Debbie Reynolds mencionó a su hija Carrie Fisher antes de morir: Esto dijo (30/12/2016)
El mundo lamentó el martes la muerte de carrie fisher y sólo un día después recibió otra noticia triste: su madre la actriz Debbie reynolds falleció horas más tarde.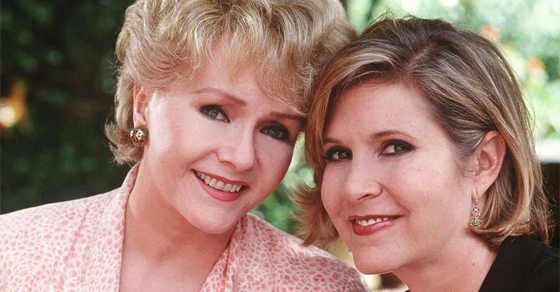 La actriz de 84 años estaba muy triste por la muerte de su hija y mientras realizaba los preparativos para el funeral de la actriz de "Star Wars" dijo: "La extraño mucho, quiero estar con carrie". Quince minutos más tarde, sufrió un derrame cerebral. Esas fueron sus últimas palabras.
Fuentes cercanas a la familia aseguraron que éste no era el primer derrame que había sufrido la actriz este año, que su salud estaba empeorando, y que la muerte de carrie fue demasiado para tolerar.
Debbie reynolds es conocida por sus roles en filmes como "Singin` in the rain" y "Tammy and the bachelor". carrie fisher y su hermano Todd fisher son hijos de reynolds y el fallecido cantante eddie fisher. La pareja se separó en 1959, luego que eddie fisher tuviera un escandaloso romance con Elizabeth Taylor.
reynolds además fue nominada a un Oscar por su trabajo en "The unsinkable Molly Brown".