Científicos afirman que el machismo mata a los hombres: Estudio sobre su psicología (01/12/2016)
Un estudio de la Asociación Psicológica Americana (APA) publicado en la revista Journal of Counseling Psychology que abarcó 80 análisis realizados a más de 20.000 hombres, descubrió que el cumplir con ciertos parámetros machistas de la sociedad: como ser el proveedor del hogar, la promiscuidad y el ejercer poder sobre las mujeres, afecta la salud mental de los hombres.
El análisis que abarcó los estudios realizados en los últimos 11 años, concluyó que los hombres que se adhieren a las «normas de masculinidad» no solo afectan a las mujeres a su alrededor, sino que también demuestran tener una salud psicológica y un funcionamiento social muy negativo.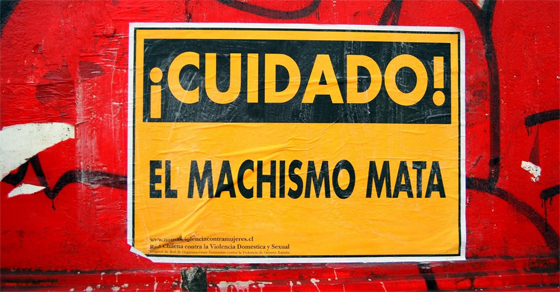 Cabe precisar que las mencionadas «normas masculinas» se refieren a comportamientos típicos de la masculinidad tóxica, como por ejemplo el deseo de ganar siempre, la necesidad de tener control emocional, la violencia, el dominio sobre las mujeres, la promiscuidad sexual, la independencia, el poder sobre las mujeres, la prioridad en el trabajo, la toma de riesgos, el menosprecio a los homosexuales y la constante búsqueda de estatus.
Ahora bien, no todas estas normas tienen el mismo efecto nocivo, pues el equipo de investigación reportó que algunas de estos modelos son mucho más negativos que otros. Por ejemplo, la independencia, el dominio sobre las mujeres y la promiscuidad sexual, parecerían afectar a la salud mental del hombre. En cambio, las normas restantes no demostraron tener un impacto negativo.
Junto con lo anterior, el análisis también reportó que cuando los hombres son independientes, tienen control emocional y son sexualmente promiscuos, tienen la tendencia a despreocupar su  salud mental, pasando por alto ciertas enfermedades. De hecho, el psicólogo e investigador Michael Addis explicó que por esta razón, hasta hace pocos años, la información disponible en cuanto a la salud mental de hombres sexistas era inexistente o muy escasa.
Con esta conclusión los científicos demuestran que el eslogan "el machismo mata" no sólo es aplicable a las mujeres o niños, sino a los propios varones.
Últimos artículos
Cat Around the World In this cute physics puzzle the cat is travelling again to taste the world's best salami and admire the beautiful landscape of the alpine lakes region.
Park Your Car Show your skills in this cool parking game! There's a free spot available, now it's up to you to navigate your car safely into it.
Super Loom: Starburst .
Babel .
Fit it quick .
Wake the Santa Wake the Santa in this Christmassy puzzle game by eliminating the blocks and making the snowflakes fall on Santa.
Tiled Quest .
Parking Passion .
Ufo Run .
Spect SPECT is an challenging and addictive 2D space shooter.
Roxelane True Make Up Combine different hairstyles and makeups, as well as crowns and robes for Roxelane, the most powerful woman of the Ottoman empire.
Treasures of Montezuma 2 Have an adventurous journey and hunt the precious jewels in this classic Match3 game for every age.
Tea Treatment .
Smarty Bubbles X-MAS Edition Ho ho ho! It's wintertime! Our fantastic bubble shooter Smarty Bubbles is now shining in a beautiful winterly look.
Fairy Princess The Fairy Princess needs an enchanted outfit. Dress and style her by picking clothing items and accesory to create the perfect look.
My Kitten Make your own, cute kitten by matching different features such as color and pattern of fur and shape and size of nose and ears.
Fluffy Egg .
Wild West Solitaire The wild west and card games go together like peanut butter and jelly. Pretend you're in a saloon, sort the cards and clear the field.
Beauty Cat Salon .
K.U.L.I. .